Sky Hooks Nz Waikato
Meet Scott, a devoted father to three energetic boys, including twins, who share his zest for life. With a remarkable history representing New Zealand in both road and mountain biking, Scott has transitioned his love for precision and performance into his role as the "fix it guy" at Skyhooks. He relishes the daily challenges of executing complex lifts in tight spaces, effortlessly moving spa pools, trusses, outdoor furniture, and more. At Skyhooks, we specialize in lifting and transporting various items, all while providing exceptional service. Now based in Cambridge, Waikato, Scott continues to deliver the unparalleled Skyhooks experience to our valued customers.
Ph: 029 200 2001
---
Residential
Our residential Sky Hook services offer a unique solution to simplify the challenging task of moving objects into tight or hard-to-reach spaces within your home. Whether its hoisting furniture onto a balcony, positioning heavy appliances in unconventional places, or even assisting with home renovations, our specialized technology and expertise make the impossible possible. We understand the intricacies of residential spaces, ensuring a seamless and damage-free experience. Let us handle the heavy lifting so you can enjoy a hassle-free solution for all your home-moving needs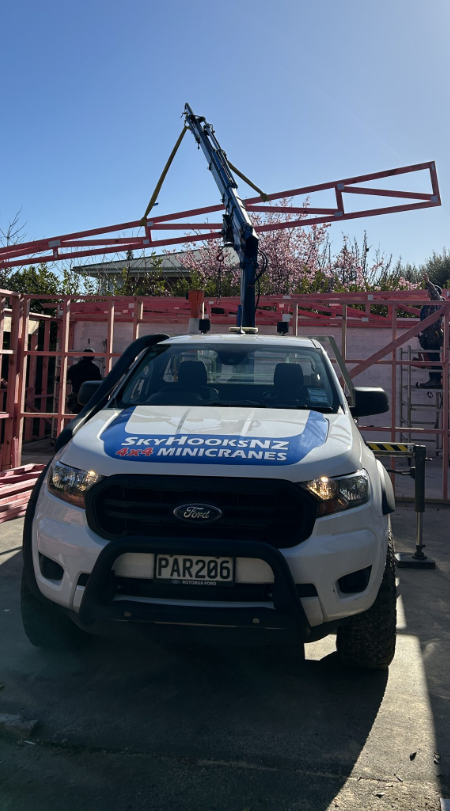 Construction
Our construction and building services, enhanced by our Sky Hook solutions, redefine the possibilities of moving and places large structures with precision and ease. From trusses to steal or wooden framing, our advanced technology and expert team ensure the seamless installation of heavy components at your site. We take pride in optimizing efficiency, safety and accuracy. Enabling you to meet project timelines and surpass quality standards. With Sky Hook, your construction ventures soar to new heights, revolutionizing the way you build and create.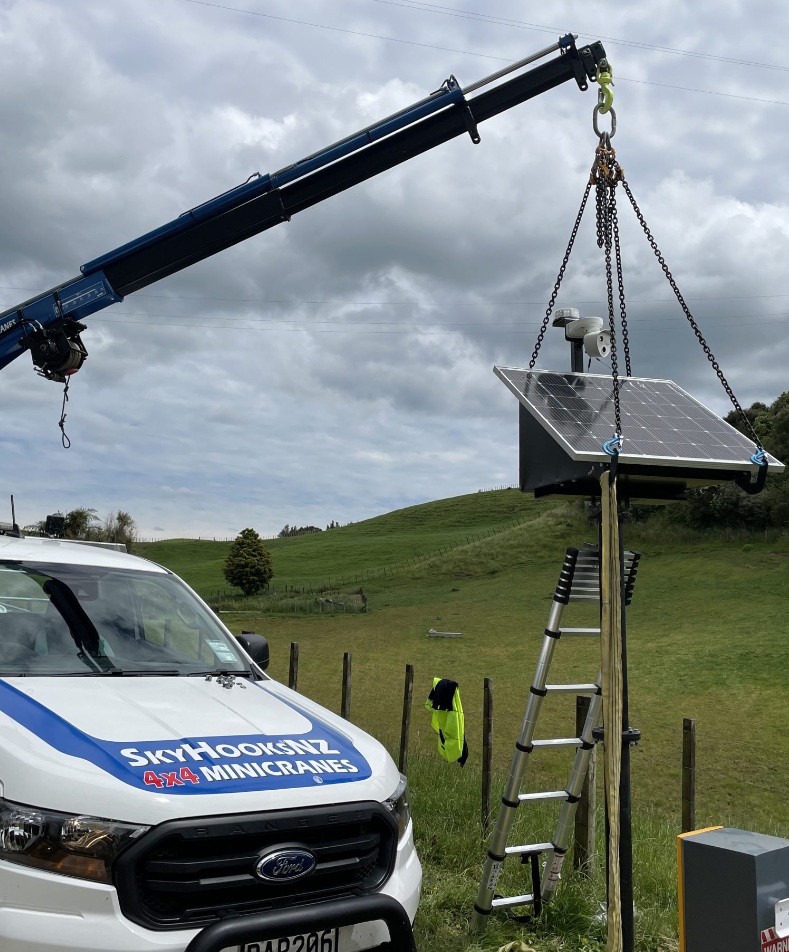 Solar
Our Solar Installation services go beyond just placing solar panels, we ensure they are installed and positioned flawlessly using our Sky Hook solutions. With precision and expertise, we handle the delicate process of moving and securely placing solar panels to maximize their efficiency and effectiveness. Whether its a residential set up or a large-scale commercial project, our Sky Hook technology ensures that your solar panels are optimally positioned for maximum energy production. Trust us to not only install but also expertly position your solar panels.
---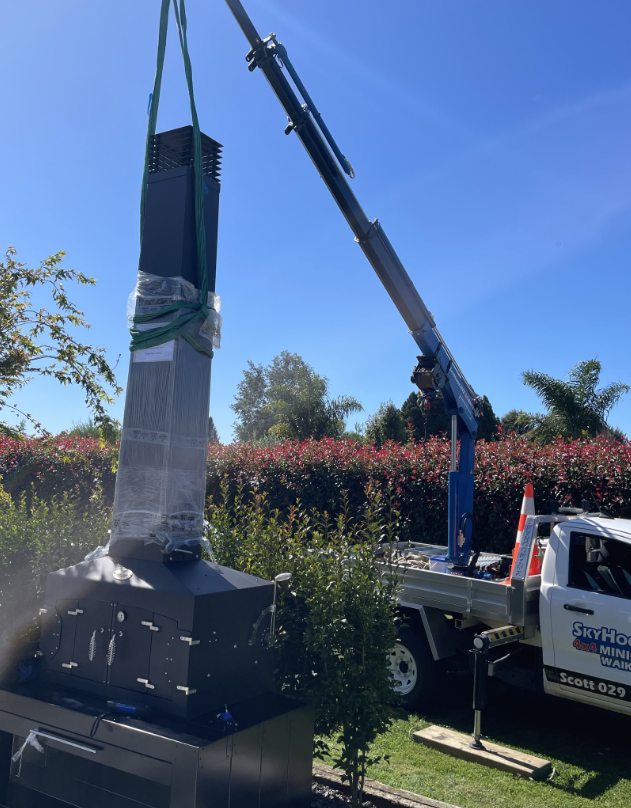 Alfresco
Elevate your outdoor living experience with our Sky Hook services, where we transform the way you transport Alfresco items. From patio furniture to outdoor appliances, our innovative approach redefines convenience. Picture effortless hoisting of heavy items onto balconies or seamlessly positioning your outdoor oasis, all with our specialized technology and expertise. Whether its a backyard makeover or a cozy rooftop setup, we make it possible. Say goodbye to the hassle, and let us take your Alfresco dreams to new heights. Explore our Sky Hook services today and unlock the extraordinary in outdoor living!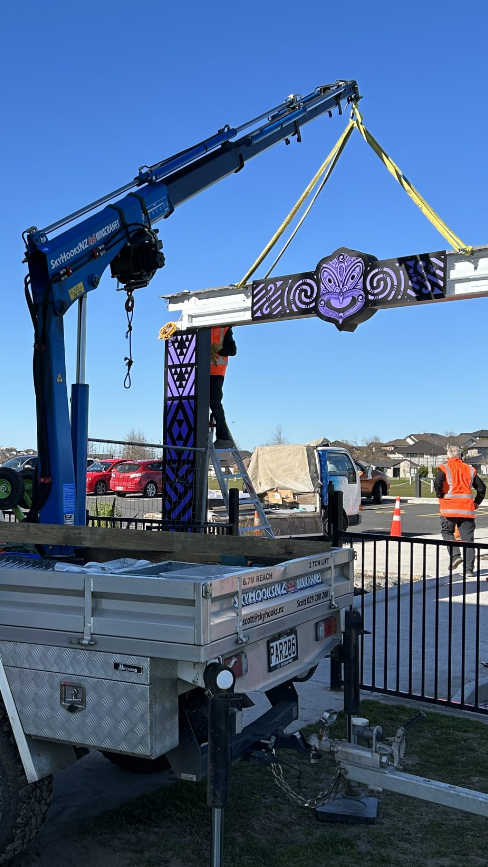 Signage
Revolutionize your signage projects with our Sky Hook installation services, designed to help you effortlessly position signs in even the most challenging locations. We specialize in transporting and securely installing signs, ensuring they stand tall and proud. Whether its eye catching storefront signs or attention grabbing billboards, our expert team and cutting edge technology guarantee precision and impact. Boost your business's visibility and make a lasting impression with our hassle-free, Sky Hook assisted sign installations. Lets turn your signage projects into high flying successes. Explore our services and watch your brand shine!
Spa & Pools
Prepare to immerse yourself in an unparalleled spa and pool moving experience with our specialized services. We're here to ensure that every aspect of your spa and pool transportation is handled with the utmost care and expertise. Using our innovative Sky Hook solutions, we expertly hoist and position these luxurious additions, conquering even the trickiest of spaces. The days of logistical headaches and missed opportunities for relaxation. Picture your serene retreat nestled perfectly in your backyard, with our precision and years of expertise in spa and pool moving, we guarantee a seamless and stress free process.
---
Sky Hooks Nz
Our repertoire of services is designed not just to meet your needs but to surpass your expectations, taking your projects and dreams to unparalleled heights. From our innovative Sky Hook solutions, ensuring precise installations and placements, to our unmatched expertise in the meticulous art of spa and pool moving, we are committed to turning your aspirations into splendid realities. At our core is a resolute dedication to precision, innovation, and unwavering customer satisfaction.
Picture us as your partners in transformation, turning challenges into opportunities and mundane tasks into unforgettable experiences. Your vision is not just a mission but our fervent quest, and your goals are the wind in our sails, propelling us to excellence.